Okay so you want to know Rome photography spots? you've landed in the right place! In this article I will tell you where to go and take beautiful photos in Rome plus some examples to give you an Idea. stay tuned.
1- Terrazza del Pincio
Full address: Terrazza del Pincio, Salita del Pincio, 00187 Roma RM
Terrazza del Pincio is near Piazza del Popolo and you can access this place from Flaminio metro station just in 5 minutes. You can see a beautiful view of Rome and Vatican church from this Terrace and also take nice pictures.
2- Orange Garden
Full address: Giardino degli Aranci, Piazza Pietro D'Illiria, Roma, RM
This is a place which you can see Rome from Aventine hill and take nice photos. whenever I go there, I see photographers who are taking wedding photos. This place is usually not so crowded.
3- Tiber riverside
Tiber river is a nice place to take pictures and you can have beautiful bridges and river in your frame. I recommend you to go near Saint Angelo castle because river and bridges are more beautiful.
4- Colosseum
While Colosseum is usually so crowded and it can be hard to find nice frames, it certainly worth going Cause its the icon of Rome.
5- Laghetto Di Villa Borghese
This is a small temple in Ionic style built between 1785 and 1792 by Antonio and Mario Asprucci (father and son) and by Cristoforo Unterperger and dedicated to the God of medicine. According to the original intentions of the builders, only the construction of an architectural elevation was planned to house the statue of Aesculapius, brought to light at the ruins of the Mausoleum of Augustus.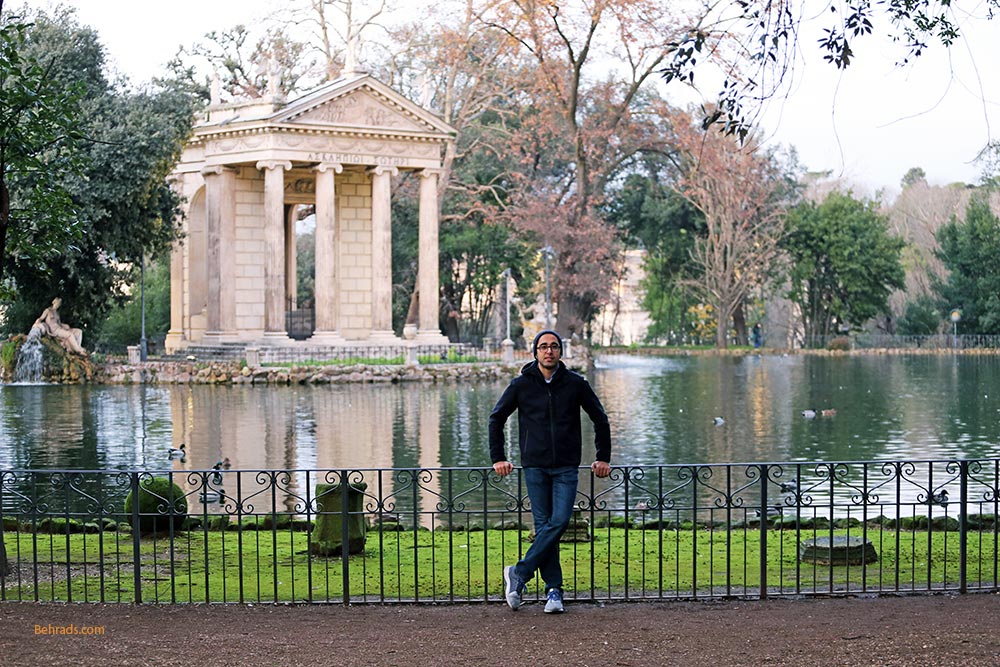 6- Villa Ada
Rome has many beautiful parks and gardens, but my favorite is Villa Ada! Its is huge park full of trees and a very nice lake in between.
It goes without saying that Rome has many historical and beautiful land marks which are not mentioned in this article. These are our favorites, what are your favorite Rome photography spots? Please let us know in the comments below!
Finally If your coming to Rome, Our team of professional photographers can make your trip memorable! just drop us a message and we will do the rest!
I used Wikipedia to get some info about places.
Thanks